Meet Our Donors
We thank all our planned-gift donors for their generous support. Here are some of their stories.
Greg & Rosanne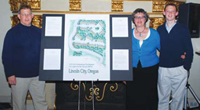 Greg & Rosanne
San Diego Symphony musician, W. Gregory Berton, his wife, Rosanne and their family have created the Berton Family Charitable trust, an irrevocable charitable remainder trust naming the San Diego Symphony as beneficiary and have placed land which they own in Lincoln City, Oregon in the trust.
Greg has played bass for the San Diego Symphony for 27 years. He has served not only as a distinguished musician in our orchestra, but also in numerous volunteer positions for the benefit of the orchestra including chairman of the orchestra committee and member of the Board of directors.
Rosanne is a quilt artist. She retired from UCSD after a distinguished 25 year career in the medicine/pediatrics residency program and as administrative manager and textbook editor of the division of Cardiothoracic Surgery. She also held important editorial and administrative roles in the UCSD medical center emergency department.
We are happy that henceforth the Young People's Concerts will be renamed the San Diego Symphony Berton Family Young People's Concerts.
"Over the 27 years that Rosanne and I have been associated with the San Diego Symphony we have been delighted to watch the orchestra grow into one of the preeminent arts organization in San Diego. As we celebrate our hundredth anniversary under the musical direction of Maestro Ling and the leadership of our Executive Director, Ward Gill and his dedicated staff and Board of Directors, we cannot help but be impressed with the artistic and financial success of this great institution.
Much of my admiration of the San Diego Symphony and desire to help insure its continued success is due to my musical colleagues. I have observed their unwavering commitment to
this art form and their continual pursuit of excellence with growing admiration. I have witnessed their personal sacrifices to insure the future of this great orchestra. They deserve not only the critical acclaim they are now receiving but an endowment befitting their stature.
Our gift to endow the Young People's Concerts is a commitment to the Orchestra's future and the future of classical music. Music is an innate part of the human experience. Raising children without exposure to the highest musical achievements of mankind cannot abide. We hope that with this gift and others, every child in San Diego will be able to experience a live orchestral performance and we call upon our educational leadership to ensure that our Young People's Concerts are not merely special events, but a part of every school's curriculum. We hope that our gift will inspire others to join us to support the future of the San Diego Symphony." — Greg and Rosanne Berton.
"You have set an example which will be an inspiration to all of us who love the Orchestra. I am so proud and honored to serve as music director where orchestra members such as you give us the sense of belonging and ownership of the Orchestra. Your legacy will last for generations and will influence our offspring to appreciate classical music even more. I thank you from the bottom of my heart," said Jahja Ling, San Diego Symphony Music Director.
Commenting on the gift, Mitchell R. Woodbury, Chairman of the Board of Directors of The San Diego Symphony, said, "This gift not only underscores the tremendous generosity of Greg and Rosanne Berton, but it carries with it other critically important dimensions. To begin with, it serves as a wonderful early and leading example to the Symphony's donor community, and the community at large, as the Symphony's Centennial momentum is building. Additionally, while most organizations look outside their ranks for major gifts, the Bertons' gift comes from one of the Symphony's mainstay musician veterans and his family, demonstrating the solidarity of the relationship we have with our treasured professional musical artists. It doesn't get any better than that."
Marjory Kaplan – Why Did I Leave a Bequest for the San Diego Symphony?
I grew up in Berkeley - Berkeley Illinois, that is, which couldn't be more different than her California counterpart.
Berkeley Illinois was a mostly blue collar suburb just 12 miles east of downtown Chicago. Our neighbors were wonderful families. They drove trucks, worked at the local factories, and managed restaurants.
My Dad happened to be an accountant who loved classical music. On a typical summer afternoon, you could hear strains of Bernstein, Tchaikovsky, or Beethoven coming from our home. My Dad was always a good neighbor, so eventually his Irish and Italian friends would come by and ask, "Myron, what's this?" He would enthusiastically explain what was playing and sometimes even buy them a copy of the record if they really liked it.
Classical music was so important to our family. All of us played musical instruments, my Mom headed up the school band boosters, and we attended public concerts when we could.
So when it came time for me to make some charitable provisions in my estate planning, I included the San Diego Symphony as a beneficiary of my IRA. I knew how happy that would have made my Dad. What I didn't know was how pleased my Mom would be. After 65 years, she still remembers their first concert together and how breathtakingly beautiful the Brahms symphony was. You see, Dad also introduced my Mom to classical music.
So that's my story. Each of you no doubt has one too. If you love classical music, please do find out how easy it is to leave a legacy in your will. And all of us, together, can keep a great orchestra in San Diego for generations to come.
Stephen Silverman
You may see Stephen Silverman's face welcoming you to Symphony Hall. He has been a volunteer usher for several years and is here almost every Saturday night. "I love all kinds of music and I think the San Diego Symphony is an important part of San Diego. I love being involved as a volunteer and getting to hear the concerts is great." Stephen not only volunteers at Copley Symphony Hall, but also at other theatres throughout the city. When he was getting close to retirement, he began thinking about ways to increase his post-retirement income and help the organizations he cares about. He learned that setting up a charitable gift annuity would benefit the San Diego Symphony Foundation. A gift to the San Diego Foundation will give him a tax break the first year and provide an income stream for the rest of his life, a portion of which is tax-free. Stephen says, "I want to be sure that the Symphony continues to be around for future generations." He is enjoying his retirement and, indeed, able to spend more time volunteering! The Symphony is lucky to have supporters, like Stephen, who not only ensure a great concert experience by volunteering their time, but help provide financially for the Symphony's future.